STAM Interactive is partnering with Designmate and we are pleased to introduce Eureka.in to the Schools in USA. Euerka.in is the most comprehensive and innovative 3D Science + Math Animation for teaching and understanding physics, chemistry, biology and math for elementary, middle and high schools. Eureka.in. is a product which contains a unique combination of animations, simulations, experiments, learning activities, quizzes, texts, images, web links & learning objects.
Product Range
| | | |
| --- | --- | --- |
| | | 3D Mono Offline Animations + Virtual Labs: 'Eureka.in Mono' comes with a library of 3200+ topics catering to the K12 curriculum of Science and Mathematics. Install the content in the school network and share it with any 25 computers. |
| | | 3D Mono Online Animations + Virtual Labs: The comprehensive 'Eureka.in Mono' library is also available in an online version. Anytime and Anywhere 24/7 availability. A perfect teaching tool for teachers and a reference tool for students. |
| | | |
| --- | --- | --- |
| | | 3D Stereo Animations + Simulations: Eureka.in 3D Stereo' comes with a library of 2350+ topics. Each topic is a combination of 3D animated videos and interactive simulations. Wear the 3D glasses and add the 'wow' factor to teaching and learning. |
| | | Virtual Reality (VR): In keeping with the latest technology trends, Eureka.in now has a library of over 1500+ topics in Virtual Reality. Wear the VR headset and immerse yourself completely in the learning experience - A new and innovative way to keep students engaged.  |
| | | Augmented Reality (AR): We provide comprehensive AR solutions for printed books and ebooks. Make the images in your textbooks and eBooks AR enabled with our 10,000+ world class assets of images, animations, simulations, key words and virtual labs. |
Benefits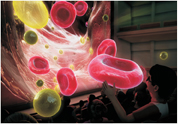 Enhance educational effectiveness & efficiency
Perfect revision tool for students
Helps teacher explain complex topics
Easy to comprehend and easy to teach
Higher retention & improved grades
About STAM
STAM based in Princeton NJ, is a leading provider of learning solutions with over 12 years of experience. STAM is now distributing the 'globally proven' Eureka.in educational software in the USA for the first time. Contact us today for more details.
Curriculum Library
The Eureka.in library is extensive and wide ranging. It has been mapped against the NSES requirements. The number of topics available in 3D mono are shown below. A subset of these topics is also available in 3D Stereo and Virtual Reality. More details about the topics is available in the individual web pages.
| | | | | |
| --- | --- | --- | --- | --- |
| | High School | Middle School | Elementary | Total |
| Science | 1508 topics | 739 topics | 321 topics | 2568 |
| Math | 269 | 193 | 138 | 600 |
| Total | 1777 | 932 | 459 | 3168 |