You will understand the latest digital technology used in CCTV, including basic digital concepts.

You will learn about digital networks; terminologies used, types, hardware devices, protocols including TCP/IP addressing and the Internet

You will understand compression techniques, types, features and how to choose digital recorders.

You will get to know the different digital CCTV devices used and their applications in networks and Internet.
CONTENT : 5 hours of web based training plus download course notes plus online testing and certification plus CEU Credits
CEU Number: 02-1028 (approved by NBFAA) CEU Credits: 0.5
PRICE: $ 145. You get a single user license for 30 days. (Panasonic will reimburse this amount to authorized dealers in USA. against co-op funds.)
COMBINED PRICES:
CCTV + Digital Video: $ 325 (Save $ 45). License Period: 60 days
CCTV + Digital Video + Fiber Optics: $ 395 (Save $ 100). License Period: 75 days
CCTV + Digital Video + Fiber Optics + Biometrics: $ 485 (Save $ 135). License Period: 90 days
For Bulk License purchase, contact Your Company Name for special prices.
How to Order? It is simple. Complete the purchase process and you will get a link to start the course. Order the WBT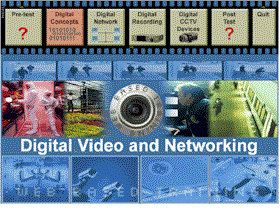 Unbiased, self paced web based training with interactive audiovisual content including animations and product simulations. Pre test, quizzes and post test. Collaborate with other students through discussion forums and email contact with instructors.
FOR WHOM : Basic to Intermediate Level
End Users, Installers/Dealers, Suppliers and Specifiers.

Technical and Non-Technical people

Existing and New staff
SYSTEM REQUIREMENTS :
56 Kbps Internet connection (minimum)
PC with speakers

DEMO :
For T1/DSL/Cable/ISDN connection Click here
TESTING :

The WBT has the following testing modules
Pre-Test : 15 questions
Quizzes : 12 short quizzes all through the WBT
Post-Test : 25 random questions from a question databank
A certificate of completion will be issued to students who get more than 65% in the Post test.
CORPORATE TESTING PROGRAM
:

To track students test results, STAM can create a Test Result Database with an Admin page for the manager. This way the student can complete the WBT anywhere, but the results will be stored and tracked from a central database. This will provide many benefits.
STAM can create this database FREE if the number of registrations are 10 or more.


Difference between analog and digital
Reading and writing of binary numbers
Analog to Digital conversion process
Digital to Analog conversion process
Bandwidth and its calculations
Bandwidth comparison
DSP chip and its CCTV applications
Digital Resolution



Principle of networking including OSI model
Structure including Star, Bus, LAN, WAN and Internet
Network devices like network cards, hubs and servers
Interactive simulations of switcher, bridge and routers
Different cables, including wireless LAN
Protocols like Ethernet and GSM
ATM
TCP/IP
IP addressing
Extranet, Intranet and VPN



Principle of compression
Type of compression JPEG, MPEG and Wavelet
Principle of digital recorders
Types of digital recorders
Features of digital recording including storage capacity
How to calculate recording duration
Add-ons like multiplexers and remote transmission.
Choosing
Basic installation



PC, web and servers cameras
PC based switchers including GUI
Network switchers
Digital monitors including LCD and Plasma
DSL
Network CCTV applications
Internet CCTV applications
Wireless LAN application in CCTV



Very good introductory training.
This training program is the perfect tool for the person just getting involved in the security industry. I really took a lot out of it. I would recommend this product to others looking to build a background in the security industry.
In depth stuff!
Great content. Unable to complete only had 15days now it's 21! Need to show remainder of days after logging in. Also no easy way to tell days left. I thought it started after 1st log on.
Very easy to follow and understand
. The learning program was very easy to use and understand and would be very easy for someone who knows nothing about networking to follow. I was very pleased with the user interface.
Very good basic overview of Digital CCTV and networking.
Good general theory of digirtal CCTV and networks. The on-line course should tell you the hours and days you have left to complete the course.
good basic course for beginners to this material .
Was a good introduction to the topic and provided the basics of digital video and of networking. I now have a good understanding of the topic and look forward to going further.
Very informative, but needs "time" notification
Thank you for an extremely informative course. Being relatively new to the industry, I learned a lot. Perhaps o notice at log-on as to time remain
The review was excellent and very informative
I thoroughly enjoyed this review of the digital video and networking. It was a good challenge and offered alot of good informational topics. I would highly recommend this training course to anyone interested in learning about this subject. David Perry,
Extremely Valuable for CCTV techs
I recommend this course to those who install, utilize or service Digital CCTV systems or who are contemplating doing so.
pertinent and concise
The information presented was exactly what was needed, and was presented in a logical and progressive manner. The only problem I found was the navigation tool instructions are buried under an obscure "read me" button. I did not get the full benefit of
good work
would like save the files to my hard drive for future information of this training